Claire's PhD research honouring Chernobyl self-settlers has gained a prestigious award nomination, named as a finalist in the 2022 North East Culture Awards. Claire explained:
"The more I got to know about them, the more I realised we have many shared interests, including in embroidery. All members of the community have those skills because their embroidery is linked to their religious life and has an emotional and spiritual connection. Embroidery is draped around their homes and they are really proud of the work they've done."
Professor Jayne Wallace, CoCreate lead and Claire's principal PhD supervisor, said:
"It's absolutely fantastic news that Claire is in the running for the Visual Artist of the Year title at the North East Culture Awards. This recognition is so well deserved and demonstrates that the research Claire is doing has a huge perceived impact by people in cultural contexts in the UK. Aside from that, the relationship that Claire has formed with the community in Chernobyl, including the Babushkas, is extremely strong and through co-creative craft research and making together they are supporting her ambition to develop new textile objects that ensure their traditional skills are not forgotten."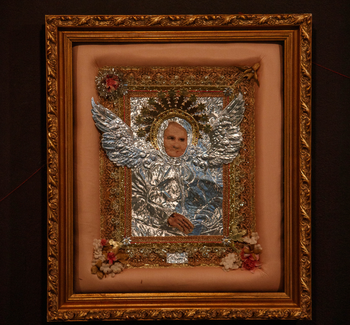 Claire A Baker's artwork showing the Babushka, Marusya, as an icon. Image credit, Craig McCann McMillan.Now in their fifteenth year, the Culture Awards are open to anyone who has made an impact or a significant contribution to the North East cultural landscape during the last 12 months. Anyone can nominate an individual, organisation, event or exhibition for consideration. The winners of 11 categories will be announced at a special celebration evening on Thursday 8th September at Durham Cathedral.
Discover more about Claire's work online at www.claireabaker.co.uk or on Instagram @claire_a_baker
Read more about it on the Northumbria News page here:
Conrgratulations Claire!